In the last few years, the rise of the craft beer culture in Barcelona is overwhelming.
We are big lovers of craft beers, so we thought to share our personal favorites with you to try the best craft beer in Barcelona.
Some called it a craft beer revolution, others a new trend that is here to stay. The opening of many new beer bars by local brewers throughout Barcelona have initiated a craft beer movement that has risen the standards of how the average beer consumer perceives beer.
Luckily for lovers of a perfectly poured pint (like ourselves), the craft beer bars are popping up in many local neighborhoods and now it's a trend city-wide.
We love craft beer so much to the extent that we make sure to provide you with plenty of suggestions to discover the Barcelona craft beer scene after taking one of our sidecar tours.
The most popular beer in Barcelona – Loved commercial beers
Without a doubt, the most popular beer brand in Barcelona is Estrella Damm.
It's not only an iconic label synonymous with beer in Barcelona, but it has also become an incredibly popular beverage throughout Spain and Europe.
Estrella Damm was founded in 1876 by Mr. August Kuentzmann Damm when he arrived to the Mediterranean coast from Germany and created a beer adapted to the Mediterranean climate. Lighter than central European beers, it was an instant success becoming the most popular beer in Catalonia.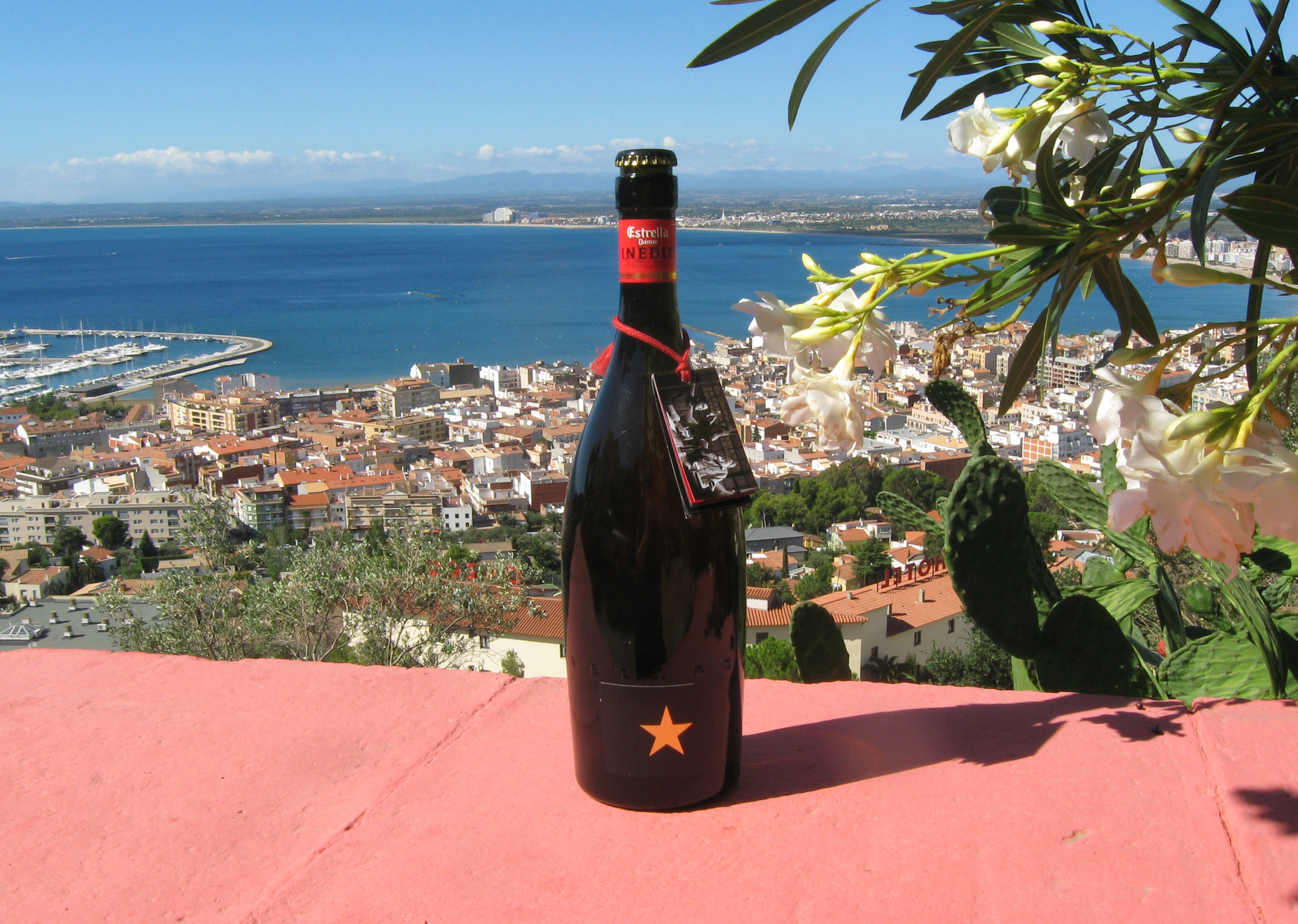 Other popular beer brands are San Miguel and Moritz, both widely available in Barcelona and Catalonia.
These beers are commercially available literally in every restaurant and bar in Barcelona, from the touristic street of Las Ramblas to the most isolated local bodega to the outskirts of the city.
However, for decades, for those beer lovers with edgy palates that wanted to taste an artisanal brew, their options were limited.
The only options were imported Dutch or Belgian beers that were expensive and rare to find.
But lately, things have changed.
Craft brewing is taking the city by storm, and now we can find good brews practically everywhere in the city.
Beer culture in Barcelona
"Tomamos una caña?" It's a phrase you'll hear frequently if you hang out with Spanish people.
"Let's grab a pint" may sound more Irish, however, it's a surprisingly common invitation in Spain for afterwork drinks.
Many are seeking their next beer heaven using apps like Untappd for Android users. You can also locate the craft beer bars and restaurants listed above on this map: Bla Bla Beer.
The brewpubs in Barcelona are excellent alternatives for those who want to go beyond the wine bar culture.
All these bars serve food too – including vegetarian options – so you can start a bar hopping for tapas and pints.
Sounds like fun, right? Vamos!
Where to drink the best artisanal craft beer in Barcelona?
Here´s the list of the city's top beer bars for that spicy craft beer you've been dreaming for:
Craft Barcelona
Area: Barrio Gotico | Address: C/ del Paradís, 4 | Website
Craft Barcelona is located in the heart of the Old Town, in a small alley in the Gothic Quarter, a few feet from the Cathedral and close to the ruins of the Roman Temple of Augustus, the location where Barcelona was founded. It's one of our favorite craft beer bars in the Old Town.
The bar offers a variety of tapas and pinchos served with craft beers like IPA's, Lagers, Ambers and more. Almost daily the bar organizes events from poetry to dance and live music.
La Menuda by Solà
Area: Eixample | Address: C/ de Provença, 318 | Website
La Menuda by Solà is a taproom located in the heart of Eixample, a few minutes from Paseo de Gracia and Casa Mila-La Pedrera Gaudi's project. A craft beer bar-restaurant full of light where the beer culture meets brunch and Spanish traditional tapas.
Food is as important as beer in La Menuda, with plenty of dishes to share, hamburgers or food bowls, and healthy vegetarian food. There are several beer options from homemade beer to imported craft beers.
La Fábrica Capfoguer
Area: Santa Coloma de Gramenet | Address: Avinguda de Santa Coloma, 104 | Website
La Fábroca Capfoguer brewpub was born as a cooperative, an association of persons working as a team to meet their common goals. The mission of the proud owners is to bring closer their clients to the culture behind the making and consumption of delicious local beers.
Also, they support local producers, offering different dishes cooked with local and fresh products from the region of Catalonia. This microbrewery is located in Sant Coloma de Gramenet, a district on the outskirts of Barcelona. You can approach the bar with the L1 metro line from Plaza Cataluña.
Craft Beers & Burgers HOPPINESS
Area: Poble Nou | Address: C/ de Ramon Turró, 180 | Website
This bar-restaurant is a multi-purpose room for craft beer lovers, live music, food, and street markets. It's located in the Poble Nou district, a former industrial neighborhood that lately has become a hotspot for microbreweries.
It's an establishment that supports the artists and people in the creative industry. They serve great beer in a cool space that reminds the industrial history of the area. Worth paying a visit.
BierCab
Area: Eixample | Address: C/ de Muntaner, 55 | Website
BierCaB started from the passion of a group of friends who love craft beer and food. Strategically located in the heart of Barcelona, this craft beer bar offers a wide selection of international dishes and many bottled beers, so you can feel creative by accompanying your craft beer with a burger, ceviche, or a healthy vegetarian dish. 
Garage Beer Co
Area: Eixample | Address: C/ del Consell de Cent, 261 | Website
A craft beer heaven a few steps away BierCab in the Eixample district. The guys behind Garage Beer CO are totally beer-focused. Everything started in 2015, introducing a beer bar with a great atmosphere where you can either drink a freshly poured beer or organize friendly meet-ups with colleagues. Located a few blocks from University square, in the center of Eixample, this brewpub rapidly became a hotspot in the neighborhood and beyond.
The brews in the Garage Beer Co are freshly made at the same establishment of the bar – an interesting experience tasting craft beers while looking at the barrels where the magic happens.
Ale&Hop
Area: El Born | Address: C/ de les Basses de Sant Pere, 10 | Website
Located in the Old Town, in the El Born district, surrounded by old buildings and warm street lighting Ale&Hop beer bar has something of a bistro feel.
There you can taste hand-pumped beers like Lager, Wheat Beer, Pale Ale, IPA's, Porter and Stout. Their food is excellent with tapas cooked with ingredients from the farmers market next by.
Rosses i Torrades – Celler de Cerveses
Area: Eixample | Address: C/ del Consell de Cent, 192 | Website
Rosses I Torrades Celler De Cerveses is a bar that exemplifies the amazing craft beer bars Barcelona has to offer. The bar itself has a great decorative scheme, great decor, and furnishings, you can enjoy a beer in the bar area or purchase some great beers to take home and enjoy.
The craft beer pub is easy to locate on Carrer Concell De Cent in the wonderful Eixample District of Barcelona which is an area teeming with pubs, bars, and restaurants and some amazing architecture and a major tourist destination.
La Cervesera Artesana
Area: Gracia | Address: C/ de Sant Agustí, 14 | Website
A classic in the microbrewery scene in Barcelona. The bar offers 25 beer types produced in their microbrewery, together with a range of international craft beers and gluten-free beers. The beer bar is located in the district of Gracia.
You can also choose among more than 100 different kinds of beer from around the world, both tap and bottled. Opened in 1996, the team behind La Cervesera Artesana is passionate about craft beer and they love to share their passion for craft beer. A Must visit to enjoy great local craft beer in Barcelona.
MonDoré Cerveseria Gastronòmica
Area: Sant Antoni | Address: C/ de Floridablanca, 3 | Website
Mondoré is a Gastronomic Brewery & Restaurant, located a few blocks from Plaza España, is a creative space that serves as a meeting point for lovers of craft beer in Barcelona, ​​quality tapas and good music.
La Cerveseria Clandestina
Area: Eixample | Address: C/ de Còrsega, 611 | Website
Located just a few blocks from Sagrada Familia, this craft beer bar with a terrace to sit outside, a big selection of beers, and an international vibe that will make you feel right at home. There is also a rich variety of food, with a decent internationally influenced menu (with even vegan options).
With their 10 beer taps to pour in a pint or caña (0.33ml glass) and more than 20 local and international can bottles, you won't struggle to find your favorite craft beer.
Cerveseria La Més Petita
Area: Eixample | Address: C/ de la Diputació, 30 | Website
Near Plaza España, Cerveseria La Més Petita is a tiny and cozy brewpub with 8 taps of artisanal homemade and international beers. Also, for those inclined to try something different, they offer a great selection of Whiskey and Bourbon.
In Conclusion
What's your favorite type of beer? Have you ever been to any of these craft beer bars in Barcelona? Let us know your recommendations and we'll be happy to share your tips in our blog post.
If you enjoyed this article, share it with your friends and colleagues!