Are you looking for the best paella restaurants in Barcelona? Here we share the list of our favorite paellas in the Catalan capital. Eating paella is such a memorable experience that it's worthwhile to include a paella lunch for that perfect day in Barcelona.
Without a doubt the most classic dish in Spain is paella. A rice dish that converts all Spanish grandmothers to adored rock stars during Sunday family lunches. So, unless you have a Spanish grandma, here are some firsthand tips to taste the best paella in Barcelona.
Join our food tour to learn more about paella and its origins.
What makes paella paella
But what exactly is paella? Basically, paella is a rice-based dish cooked in a wide and low pan – from the Latin word patella, literally pan.
Story has it that the origin of paella in Spain is the region of Valencia, known countrywide for its rice crops. The rice production in Valencia dates back to the 10th century AD and it was introduced by the Muslims, who also introduced sophisticated irrigation systems in Spain that increased crops.
Depending on the region and the ingredients used to cook paella, rice-based dishes can go by a huge range of names in Spain. It's very common to read on the menus "Paellas and Rices", to distinguish the paella Valenciana and the rest of the delicious rices in Spain.
The types of Spanish paella to eat in Barcelona
What are the types of paella then? You can use pretty much anything you like, so there is no limit to the number of types. The most important elements for a successful paella is patience and fresh ingredients.
Regardless of the passion dedicated to cooking a delicious paella, some essential ingredients need to be readily available before starting to cook a paella.
What are the most important ingredients for all paella variations:
Olive oil

Short-grain round rice (the best is bomba rice)

Fresh vegetables

Saffron and paprika
Cooking paella is as enjoyable as eating paella. But no matter how much you love to cook, you can always treat yourself with a paella cooked by a specialized chef.
The following types of paella are very popular and you can find them in almost all paella restaurants in Barcelona:
Paella Valenciana is the most authentic paella. It's cooked with "arroz bomba", a variety of rice cultivated in Spain, with rabbit, chicken and sometimes pork, tomato sauce, chicken broth, and vegetables like green beans and artichokes.

Paella Mixta, which translates as Mixed Paella, is a combination of the Valenciana and Paella de Marisco.

Paella Marinera or Paella de Marisco, the seafood paella. Contains only shellfish and seafood – mussels, baby squid, clams, shrimp, and langoustines all come into play.

Arroz Negro – Black Rice – is a fish paella cooked with squid ink and seafood.

Vegetarian Paella, cooked only with vegetables: peas, peppers, spinach, garlic, zucchini, eggplants, etc. Also known as Paella de Verduras.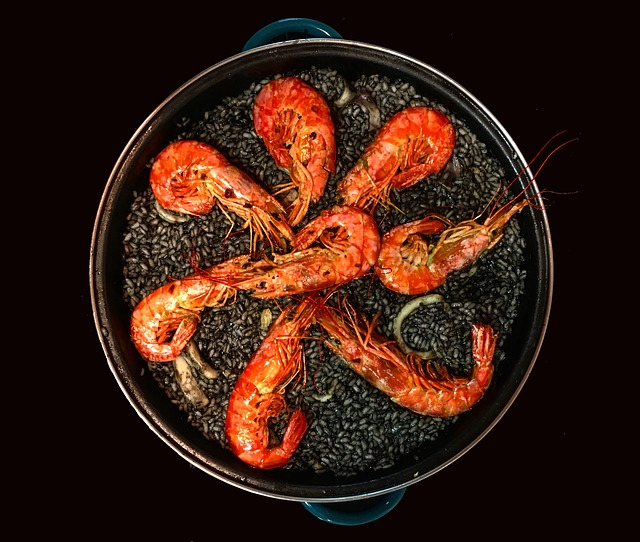 Besides paella, there are a couple of delicious variations of this rice dish:
Arroz Caldoso or Arroz Meloso, which is a soupy rice, more watery paella. It's cooked with seafood broth.

A local specialty in Catalonia is Fideua, a vermicelli paella, served with Alioli – a garlic mayonnaise sauce.
Whatever type you prefer, make sure you try this Spanish classic during your vacations in Barcelona for an unforgettable Mediterranean culinary journey.
Best paella in Barcelona: Where do locals eat paella in the Catalan capital?
Here's the list of our favorite paella restaurants:
La Mar Salada
Area: Barceloneta | Address: Pg. de Joan de Borbó, 58 | Website
At La Mar Salada you will eat one of the best paellas in Barcelona. This seafood and paella restaurant is located in Barceloneta neighborhood. The philosophy of the restaurant is to always offer fresh and seasonal food. 
Albert- the chef of Mar Salada – buys fresh seafood at the Fish Auction twice per week. With practice, he ended up understanding the complexity of the flavors, the different fish species, their qualities, origins and textures. It's an experience that can be testified in the menu of La Mar Salada. With 3 dining areas to choose from – the terrace, the interior and the dining room – this seafood restaurant is also suitable for big groups. Don't miss a paella on the terrace on a sunny day!
L'arrosseria Xàtiva
Area: Les Corts, Eixample and Gracia | Address: Carrer de Bordeus, 35, C/ de Muntaner, 6, Carrer del Torrent d'En Vidalet, 26 | Website
The Xátiva restaurants offer a well-represented Mediterranean menu with quality starters, salads, meat, fish, and seafood dishes. There's also an excellent section of rice dishes – from traditional paella, and seafood paella, to arroz caldoso creamy rice.
Most of the dishes on the menu are genuine, traditional local food, using quality ingredients such as "bomba" rice from the Ebro Delta in southern Catalonia.
Xiringuito Escribá
Area: Poble Nou | Address: Av. del Litoral, 62 | Website
Joan Escribá founded this restaurant in 1992, here you will eat one of the best paellas in Barcelona. Here you will find a cozy place to enjoy many rice dishes in a modern and intimate atmosphere where rice is the star ingredient.
There is a wide selection of delicious food, from tapas and entrées to dishes of seafood to savor while your paella is cooking. Just a few meters from the shore, it's one of the best seafood restaurants along the beach.
Barraca
Area: Barceloneta | Address: Passeig Marítim de la Barceloneta | Website
Barraca is another great restaurant a few steps away from Barceloneta beach. Barraca restaurant is a landmark in the area, run by the Michelin star chef Xavier Pellicer.
Undoubtedly one of the best paella in Barcelona. Many rice dishes are offered, from seafood paella to meat and vegetarian paella. The key ingredients are indisputably the fresh fish from the market and the organic, locally sourced products. Barraca's terrace, at the heart of the seafront promenade, is the perfect place to enjoy authentic paella while overlooking the Mediterranean Sea.
Elche
Area: Poble Sec | Address: Carrer de Vila i Vilà, 71 | Website
Andrés Iborra and Carmen Vicente opened "El Elche" in 1959, the name was chosen in honor of the couple's hometown, south of Valencia. This bar-restaurant in Barcelona's Poble Sec district is a hub of local artists and show business celebrities.
The paella restaurant Elche is the result of more than fifty years of hard work, with paella becoming its all-time classic. More than an institution, it is a veritable temple for paella lovers, in the heart of Barcelona's former theatreland of Paral·lel.
Restaurante El Noi d'Alcoi
Area: Sarriá | Address: Carrer de Castellnou, 37 | Website
El Noi d'Alcoi is a new proposal in the paella scene in Barcelona with great potential. Chef Óscar Juan, born in a village close to Valencia, the hub of the paella universe, is betting on a fusion of Mediterranean cuisine between Valencian and Catalan food.
The menu offers a wide range of good food: traditional paella, arroz caldoso and fideua. One of these local places that have become a must-visit for paella in Barcelona.
1881 by SAGARDI
Area: Barceloneta | Address: Pl.Pau de la Vila, 3 | Website
1881 by SAGARDI is the rooftop restaurant over the History Museum of Catalonia, with amazing views over the old port and the Old City of Barcelona. In 1881, construction of the former General Trade Warehouses began following the architectural style instituted by the British in ports all over the world.
The restaurant is located close to the old town and within walking distance from the beach of Barceloneta. Their fish and meat paellas are excellent as their grilled fish and steak options, are really worth trying.
Can Solé
Area: Barceloneta | Address: C. de Sant Carles, 4 | Website
An iconic restaurant in Barceloneta neighborhood that has been around for more than a century. Among the most famous customers of the restaurant were Joan Miró, Dr. Fleming and others.
They serve a variety of rice dishes, such as fideuá in fish broth and lobster, black rice with broth of squid, but also meat traditional Catalan dishes such as a delicious oxtail stew with potatoes.  
In Conclusion
There are so many options when it comes to paella in Barcelona. We hope this article was insightful and that it'll give you important tips on how to cook paella and where to eat the best paellas in Barcelona.
Let us know which one is your favorite and why.